Are you looking for top-tier, high quality mapmaking and cartography expertise? Look no further! Your mapping requirements might become a reality thanks to our team of talented cartographers. You can access the power of maps through our mapmaking and cartography services. We can help you whether you're an individual looking for a unique map for a unique project or a company in need of cutting-edge GIS solutions.
We at Maps of Iceland make different types of maps for various tour companies, marketing firms, municipalities, national parks, land owners and . Here below is a selection of the various types of maps that we make, ranging from simple diagrams to super detailed hand drawn maps and illustrations. A further selection of our maps can be seen in our online store at www.mapsoficeland.shop
Whether it's local terrain or mapping on a global scale, we've got you covered. Our services span from custom city maps to intricate geographic information systems for businesses and government agencies. Contact us at mapsoficeland@gmail.com for further information about our map making services.
---
Iceland Map for Visit Iceland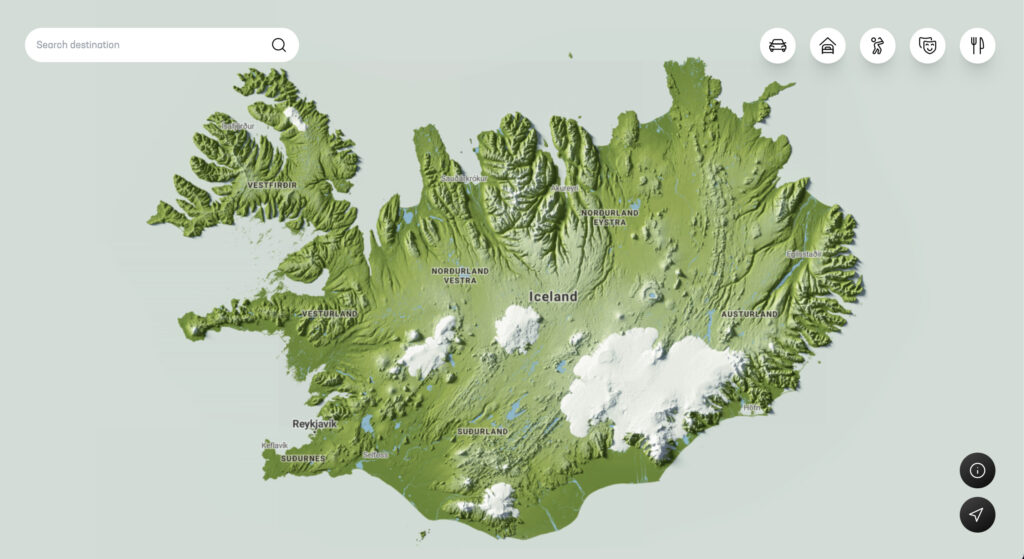 Interactive map for Visit Iceland, the official governmental tourist information website for Iceland. Collaboration with design firm Júní. The digital interactive map can be seen at map.visiticeland.com, but we also made a paper version which is distributed at trade shows and expo´s around the world.
---
2. Panorama Map for Kerlingarfjöll Highland Base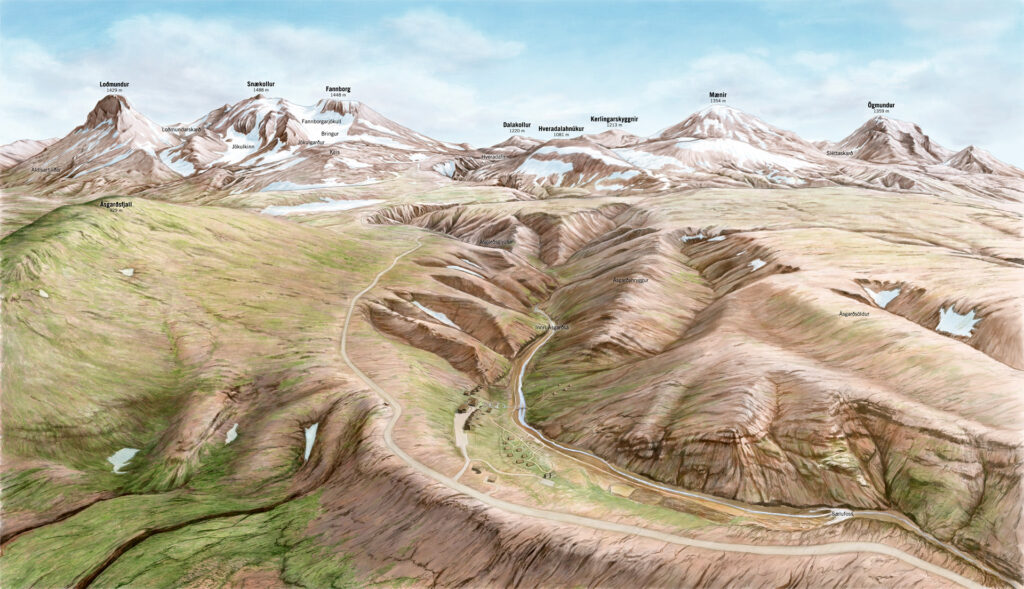 Highly detailed map of the surrounding area of Highland Base Kerlingarfjöll. As with many of our maps we started out by making a precise 3d model of the area which the client could then use to select the appropriate angle for the map. The map is all hand drawn and watercolored and is intended for large prints, up to 3 meter wide in high resolution.
---
3. Race Map for The Rift Bike Race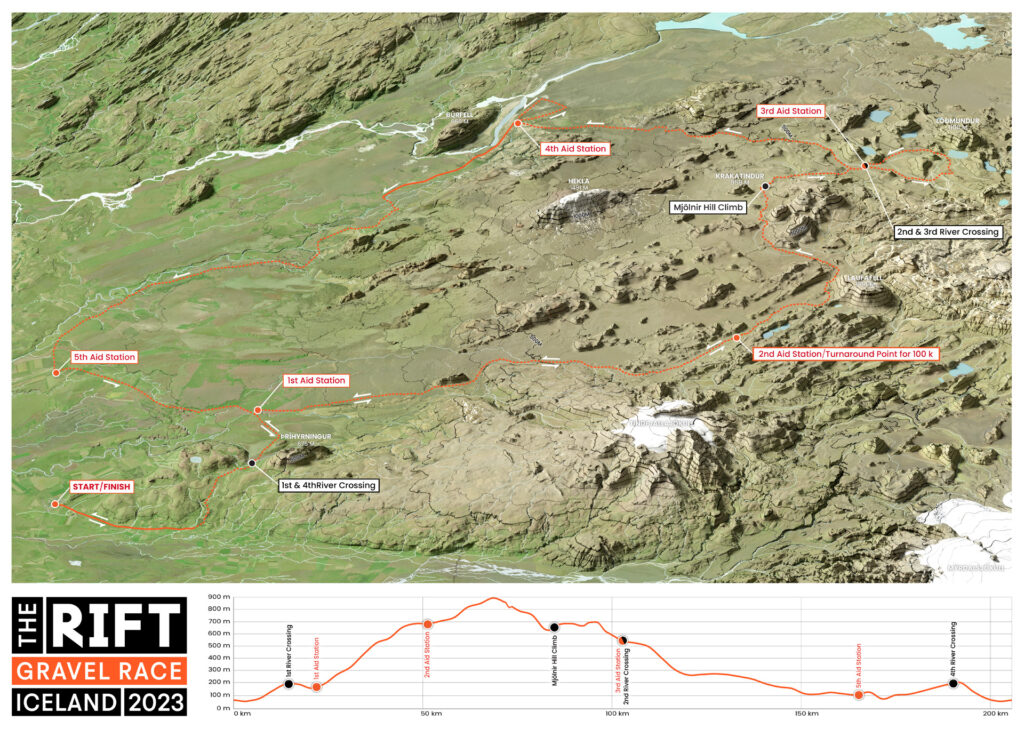 The Rift is a 200 km gravel race that takes part in the southern interior highlands of Iceland each year. The race organisers asked us to make a clear map showing the race course and the surrounding terrain. We made a 3d model of the area which was then used as a base for digitally painting the terrain and the colours of this beautiful area.
---
4. Hiking Map – Skaftafell (Vatnajökull National Park in Iceland)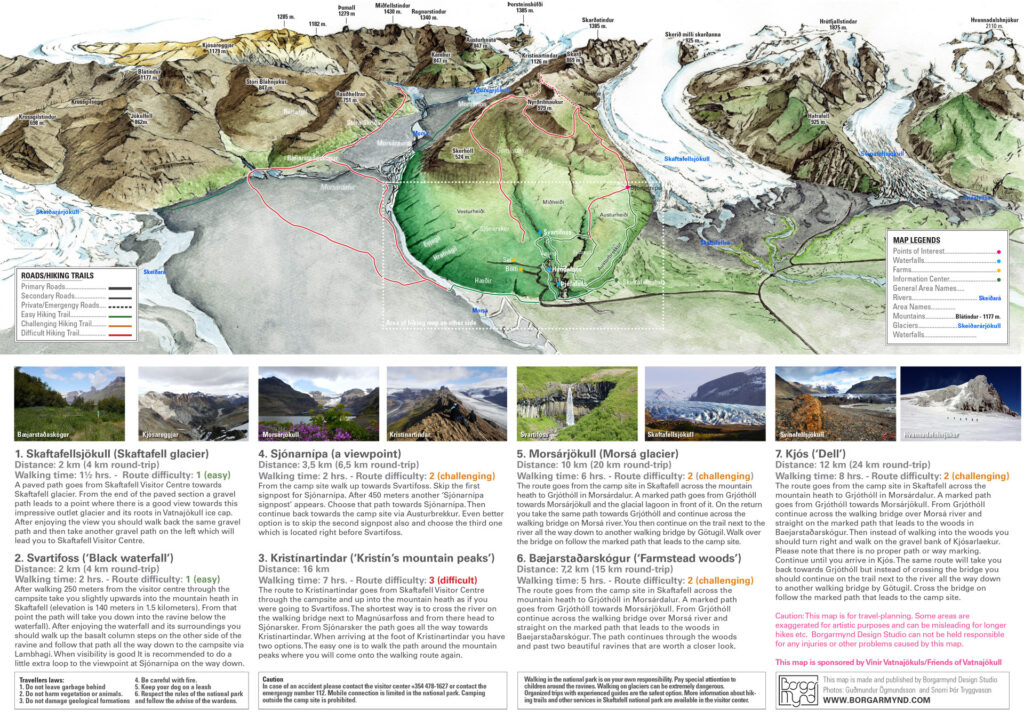 This hand drawn and watercolored map was distributed among tour companies in the area around Skaftafell, in Vatnajökull National Park in Iceland. The map was based on 3d models of the area, which were then used as a reference for pencil drawings which were then watercolored. Printed on Tyvek (Waterproof and tear proof plastic material) in A3 size.
---
5. Landhótel – Wall Map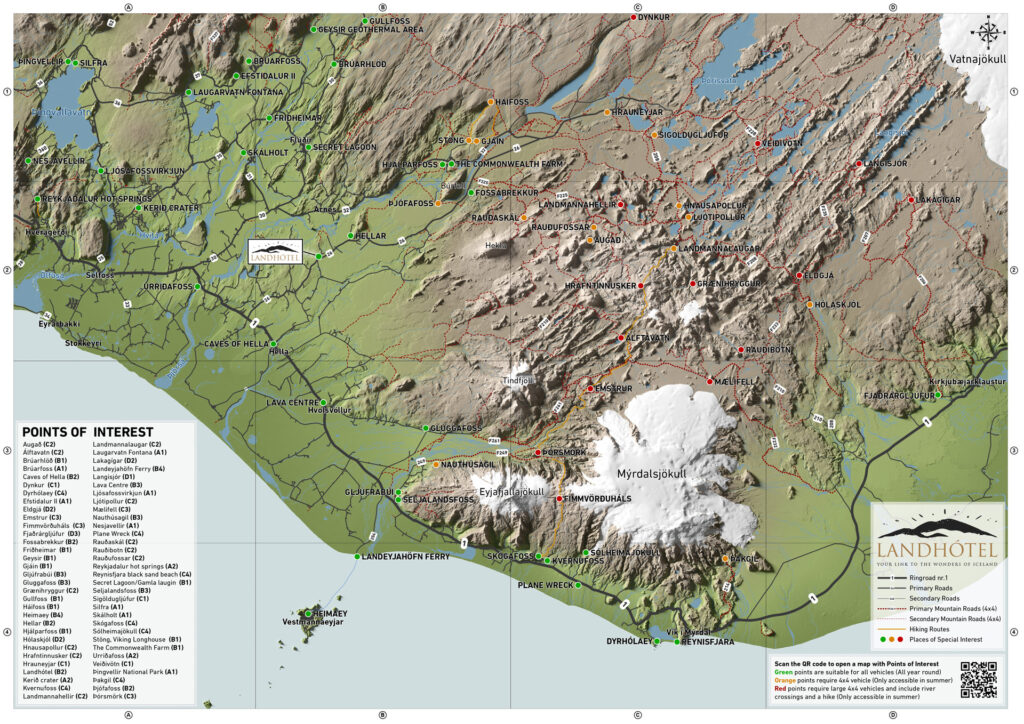 Large scale (3×2 meters) wall map made for Landhótel in south Iceland. We marked all points of interest within 50 km from the hotel onto the map and categorised them depending on how easy it was to reach each place on the map. The map also features a QR code which leads to a digital version of the map, where users can see preview photos of each location marked on the map.
---
6. Bike Farm – Cycling Route Map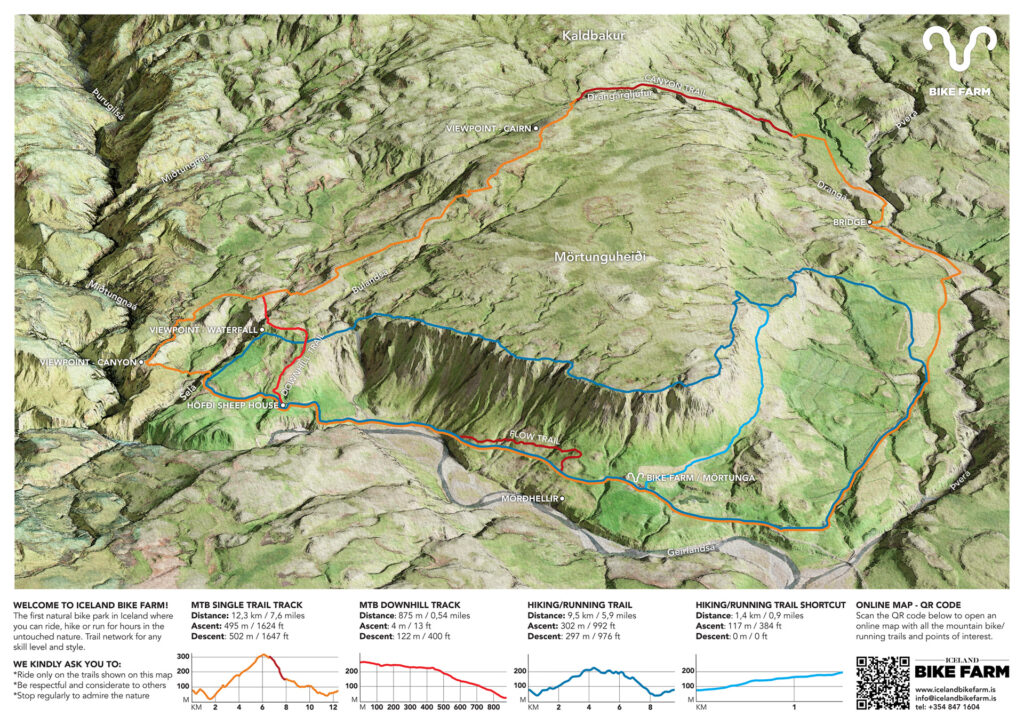 Iceland Bike Farm is a traditional Icelandic farm. There you will find horses, some chicken, the friendliest dogs, cuddly cat and some of the best single trail mountain bike tracks in Iceland. An awesome place that deserved an awesome map. Everything at the farm has a cozy, slightly vintage feel to it, so we felt that it was most fitting to make a handmade watercolour painting of the area and then overlay the mountain bike and trail running tracks onto that. The map also features a QR code that leads to a digital version of the map where users can see preview photos of points of interest along the way and download a gps track to their phones to use for detailed navigation.
---
7. San Francisco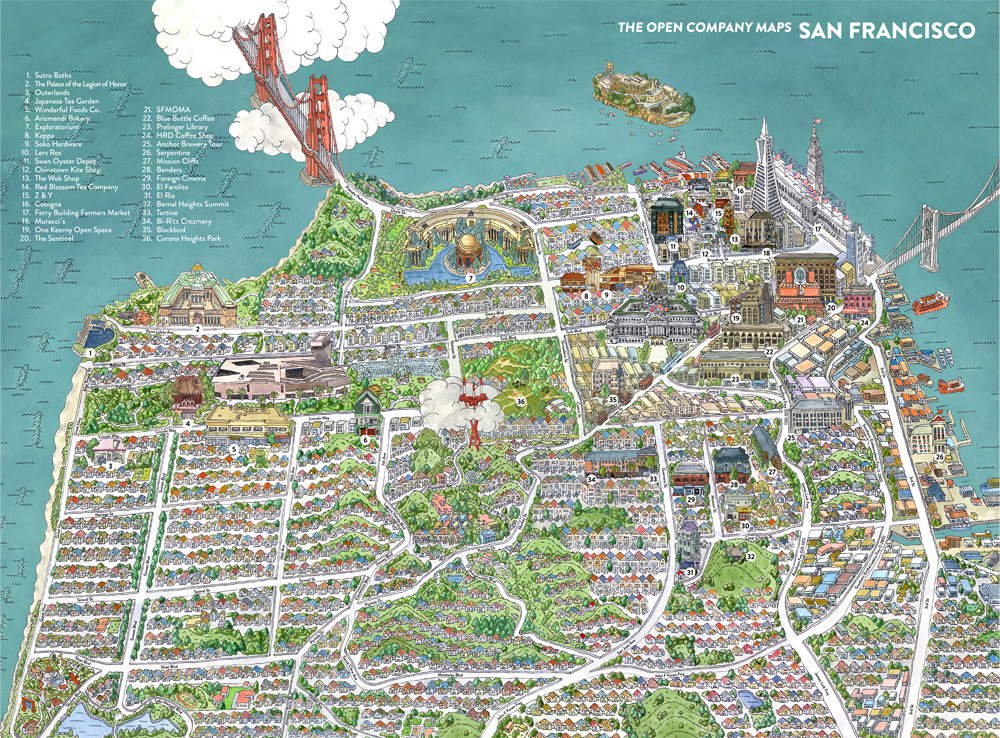 An illustrated cartoon looking map of San Francisco, commissioned by the Open Company. The map was sold in various places in San Francisco, printed on Tyvek material, which is waterproof and tear-proof.
---
8. Reykjavík Center Map
Hand drawn and watercolored map of the city centre of Reykjavík. This was the first map we made, made by classmates during architecture studies, but it took 2 years to complete the map which was a collage of 186 A3 watercolour paintings. We started out by making 3d models of every single building in the area to use as reference and to help us deciding the perfect angle for the map. We then chartered a small airplane to fly over the area to take high resolution photos of each building in the area to make sure we painted each house in the right colours. Collaboration with Pétur Stefánsson, Snorri Eldjárn and Baldur Helgi Snorrason.
---
9. Hvammsvík Hot Springs – Road and Activity Map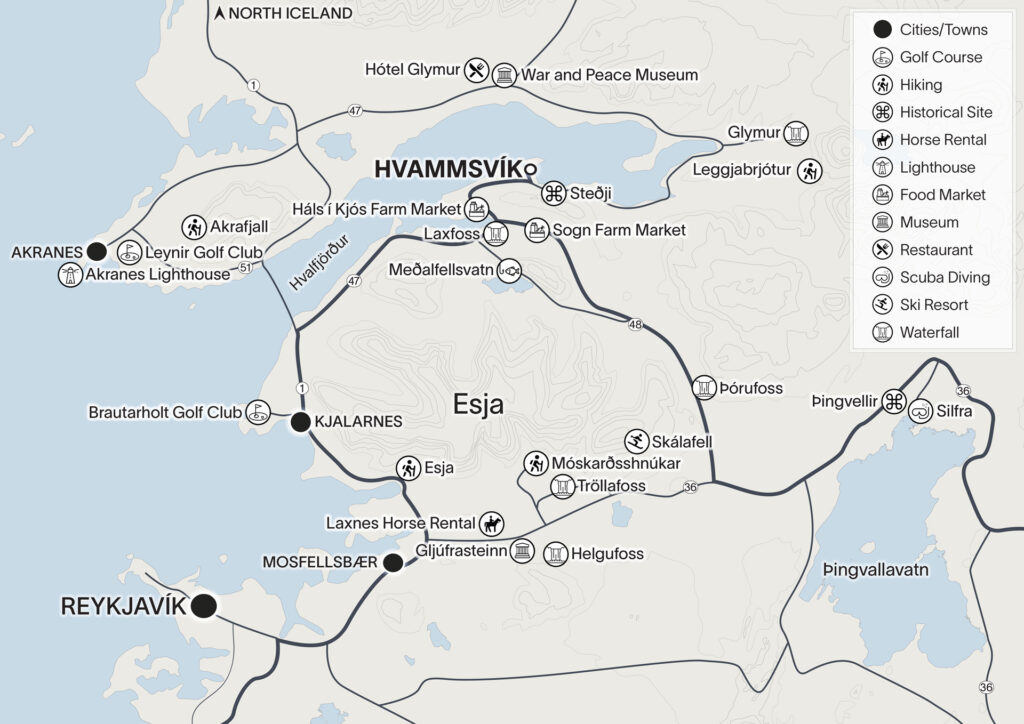 Commissioned activity map made for guests staying at Hvammsvík Hot Springs. Printed in postcard size and distributed to guests staying at the beautiful Hvammsvík Nature resort.
---
Map making and Cartography Services
Knowledge of Geographic Information Systems (GIS)
GIS has developed into a critical tool for organisations, governmental bodies, and private citizens alike in a world driven by data. In an increasingly complicated environment, our team of GIS specialists uses cutting-edge technology to gather, examine, and visualise spatial data to support your decision-making.
Producing Accurate Maps
Our mapmaking services are built around the art and science of creating maps with unmatched accuracy. The thorough processing of every contour, detail, and data point results in maps that not only tell a story but also act as effective decision-making aids.
Attention to details
Our fundamental philosophy is accuracy. We go above and above to attain quality, whether it be in the lining up of data layers, the colour scheme, or the precision of geographic details.
Quick delivery
We are aware that in the quick-paced world of today, time is of the importance. You can count on us to meet your project deadlines since we are dedicated to prompt delivery.
Affordable prices
Affordable mapmaking and cartography services should be available. For the best return on your investment, we provide flexible pricing alternatives.
Individualised solutions
We approach each map project individually since it is special. Our solutions are customised to meet your unique requirements, guaranteeing that you receive a map that flawlessly achieves your objectives.
Contact us at mapsoficeland@gmail.com for further information about our map making services.